What is a 5G/Edge Lab, and Why do I need it? 
Numerous

enterprises are

beginning to

contemplate

the creation of

a 5G/Edge Lab

due to its role

in

providing

a

space

for experimentation, innovation, and testing of applications that utilize 5G and

E

dge

C

omputing technologies

. 

This lab facility will serve as

access to a comprehensive 5G ecosystem

,

enabling

enterprises to develop, test, and bring

innovative 5G solutions

to market.​
By accessing to this lab, companies can test and validate technological solutions, address possible technical issues, and conduct proof-of-concept testing. This lab environment permits access to cutting-edge technology, industry expertise, and resources, thereby expediting their expansion and facilitating their business growth. 
Having

a

5G/Edge Lab can bring

significant advantages for

your organization

,

including

:​
R Offering immersive laboratory facilities and state-of-the-art research infrastructure for testing and verifying solutions on 5G platforms as well as presenting these solutions to your customers.​
R Validating complex use cases involving intricate architectures that integrate 5G communications, high bandwidth, low latency, and massive data with different levels of data processing, particularly at the edge. This validation process incorporates a range of resources from small devices like IoT devices, and sensors, among others, to the 5G resources. Assisting enterprise teams with practical, real-world technical validation, strategically designed to accelerate solution development and offer profound engineering expertise, maximizing their utilization of the capabilities provided by the network.​ 
Typical Component of a 5G/Edge Lab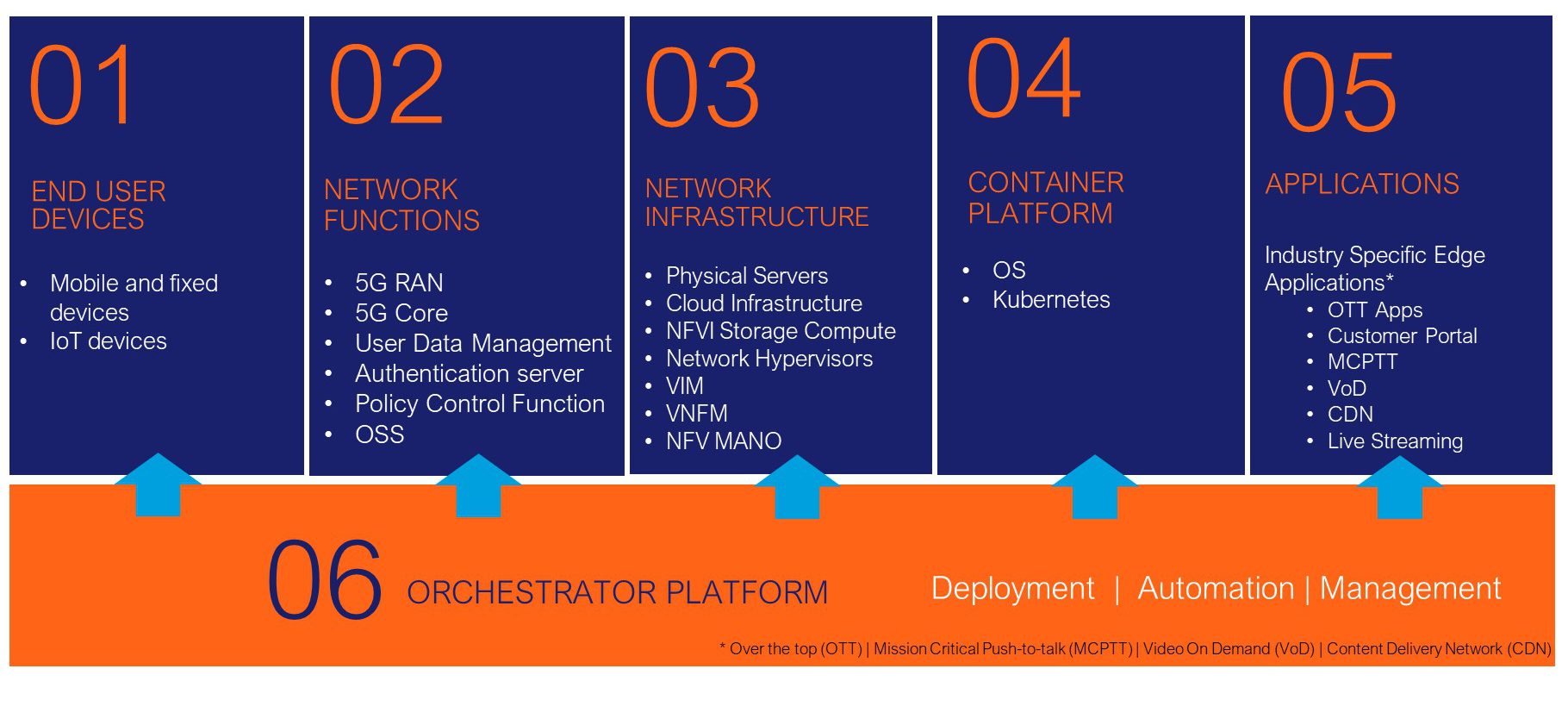 The success of a 5G/Edge Lab Implementation heavily relies on the orchestration platform, as the use of an orchestrator in the deployment of a 5G/Edge Lab enhances service quality, optimizes resource utilization, facilitates low-latency data processing, and automates operational tasks, leading to more efficient and reliable network operations. 
At the forefront of Edge-to-Cloud platforms is NearbyOne  which automates, orchestrates, and manages all components within an edge ecosystem, providing the 5G/Edge Lab distinctive capabilities such as: 
R All-in-One Solution​ 
R Fully Agnostic​ 
R Simple Operation and Maintenance Platform​ 
R Orchestrates all tiers of the network​ 
R Multi 5G network Management (multi-site or autonomous)​ 
R Fully Observability 
R Full Connectivity 
R Fully Scalable 
R Support different instances 
R Slices Management 
R APP Lifecycle Management 
R RBAC 
R UE Management 
Nearby Computing is ready to accompany you through every step of the design, preparation & deployment phases, providing valuable assistance and expertise.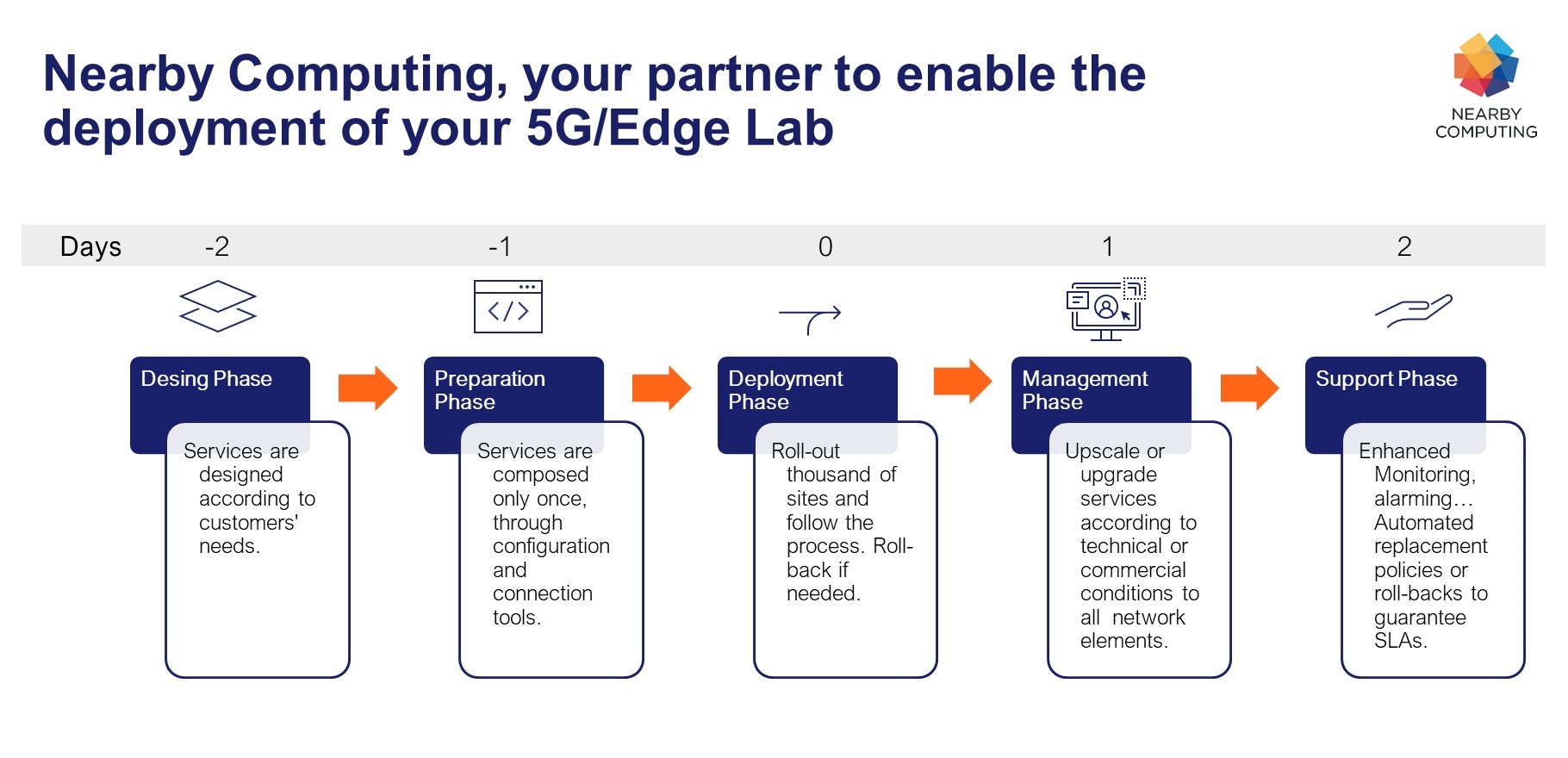 The implementation of a 5G/Edge Lab using NearbyOne encompasses various vital aspects:    
R Design and manage the high-level architecture of the lab, which includes resource orchestration, management, and orchestration of the 5G core platform.​             ​ 
R Guarantees flexibility and scalability, ensuring the lab infrastructure meets the end customer requirements.​ 
R The orchestrator platform is responsible for providing a unified way of orchestrating, operating, and monitoring the network operations across each tier of abstraction.​ 
R Provide access to cutting-edge technology, industry expertise, and resources that empower enterprises to expedite their growth and amplify their business scale. 
If you are considering creating and deploying a 5G Edge Lab, Nearby Computing is here to accompany you through each stage of the journey. Leveraging our extensive knowledge and assistance, we can assist you in implementing a state-of-the-art laboratory that leverages the power of both 5G and Edge Computing. Our team can provide guidance on the design and setup of the lab, ensuring that it meets your specific requirements and objectives. Additionally, we're well-equipped to support the testing and validation of solutions, leveraging real-time data, and deploying AI at the edge.
Have your tailored 5G/Edge Lab proposal
By partnering with Nearby Computing, you can unlock the full potential of 5G and Edge Computing within your lab environment. Reach out to us today to discuss how we can collaborate to bring your 5G/Edge Lab to life.